The Honda CBR 900RR Fireblade 1997
1992-3 Info - 1994 Info - 1995 Info -1996 Info - 1997 Info
1998 Info - 1999 Info - 2000 Info -2001 Info - 2002 Info - 2003 Info
---
The Honda Fireblade celebrates in year 2002 its tenth anniversary and during those years gained a huge following. Before the FireBlade was most powerful model of Honda CBR1000F but its dry weight was massive 222kg. Honda riders all around the world was asking for more powerful and sporty motorcycle. Their wishes was answered.
---
For a complete range of Honda Fireblade Decals Click Here
---
1997
The only change on 1997 CBR, except color scheme was to replace steel exhaust muffler with a new aluminum one. The result: lost 1 kg of weight on 183 kg. The Firelade was still most requested bike in this class.
---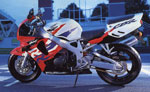 Model Year 1997
---